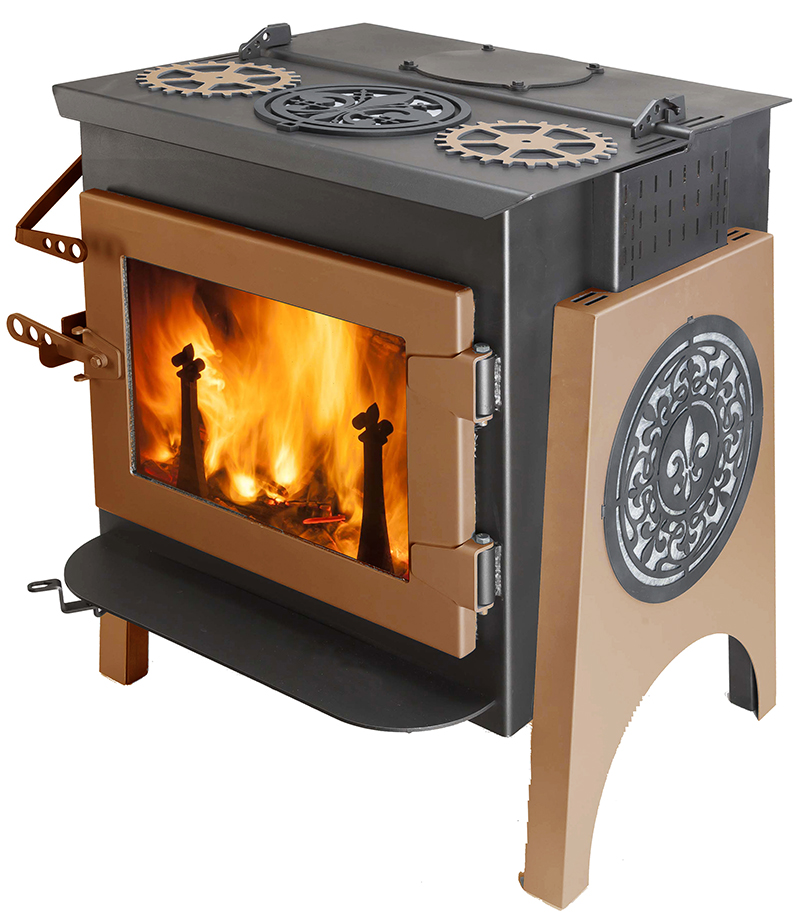 "Here about 40 miles south of Lake Superior, winter is not here yet but we have had one snow. The stove is unreal. It gets to 250 degrees very fast, and our loft area is almost always over 75 degrees. The extra notch on door lock to hold the door open for air to the fire, is GREAT. Been burning wood for over 40 years, (I'm 81), and that is one great idea.
Also is the stove eating ashes? I only dumped ashes once, because I wanted to try it. I have had the stove about 2 weeks. Where are the ashes going?
This stove gets FIVE stars.
Last year, for the first time in 35 years, I burned all my wood. I have no worries this year."
—Paul L., WI
"My wife and I love this stove. In no particular order, we love:
The ease of North/South loading into a large firebox through a large door.
The smooth and easy moving intake air lever with volume gauge on ash lip.
The well thought out ash pan.
The fact that the stove door and cat engage handles don't get real hot if you forget to reach for the stove gloves before reaching for the handle.
The incredibly steady stove top temperatures and long lasting heat output of this stove. 400-550 for 4 hours, 300-375 for another 4 hours, and 200-275 for another 4-6 hours? This is crazy great performance. Crazy great.
And Kim loves walking bare foot in our kitchen at the back of the house on warm floors. Our house has never been warmer.
We are completely happy customers and we want to thank you and all at Woodstock for providing such a beautifully designed wood stove."
—Joe L., NY
"Thought I'd just send you a note saying how fantastic the Ideal Steel hybrid performs. It is classy, logically designed, and amazingly efficient. In just the few weeks we've been heating with it I bet we are getting twice the heat and twice the burn time over our old device.
We may cut our wood consumption almost in half. We love hanging around in just a light shirt when we wore layers in the past. So we may be heat hogs and let this stove keep us toasty and maybe just toss that extra log on.
Thanks to everyone for a fantastic stove at a fantastic value."
—Crispin F., NH
"Other stove manufacturers should be afraid of the Ideal Steel. Very, very afraid."
—Richard G., NJ
"I just wanted to get back to you to say that I love the stove, it is night and day compared to what I was using before. It has brought the joy back to wood burning that I've been missing for many years."
—Dave A., WA
"Just received my ideal steel woodstove, and as a professional welder/fabricator for the past 30 years, I have to say the craftsmanship is excellent. The ordering process was simple and the adaptation of my daughters artwork was perfect. Beautiful stove, can't wait for winter! Thank you to the whole crew."
—Rod C., WA
"We installed the Ideal Steel last August. Despite the brutally cold winter in central New York this year, our natural gas usage this year is about half compared to last year. It's a great stove."
—Kimberly S., NY
"I absolutely LOVE, LOVE, LOVE my IDEAL STEEL HYBRID STOVE. It works wonderful and is a piece of art at the same time. Thanks very much for a wonderful product."
—Bill G., MA
"Installed our new Ideal Steel wood stove last weekend—super pleased with it. Loaded it up and 13 hours later it still had a full bed of coals and half a log still burning. Loaded it up again and decided to see just how long it would take completely burn—two days later the coals had finally reduced to ash. The Ideal Steel Hybrid lives up to the hype and the service after the sale has been awesome. I highly recommend Woodstock Soapstone Company!"
—Dan B., VT
"Quite the journey for the stove from New Hampshire to NW Ontario. It held a fire all night, now I might get more than 3 hours of sleep in the winter when we go. Amazing. We had to do some creative things to get it into camp, but all went well. Thanks again for everything."
—Patrick & Bethany K., MN
"The stove is very simple to operate. I really like the design & looks, also love the large window and being able to see the flames. Looks nice in our log home."
—John H., MO
"The person who installed my stove said it was the best stove he had ever installed. I love the stove, it has both great look & efficient heating for a whole house."
—Steve P., NC
Click here for more information about the Ideal Steel 210 wood stove.